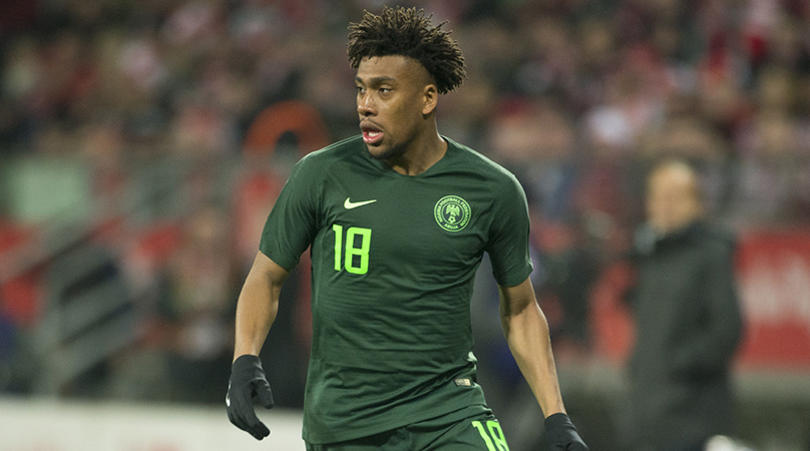 Super Eagles' midfielder, Alex Iwobi, on Tuesday dismissed many attempts to see him as heir apparent to former team captain, Austin 'Jay Jay' Okocha, who was a supremo in the same position in his playing days.
The former Bolton Wanderers star is uncle to the AFCON 2019 bronze winner with Nigeria and most pundits see him as a talent to fill the void Okocha left in the senior national team.
But in an interview with THISDAY at the Eko Hotel camp of the Super Eagles, the Everton star said his uncle whom he sees as a role model did not leave any shoe for anybody to wear rather, he took the shoes along with him when he left the pitch of play.
"Yes, I admire my uncle greatly and was such a gifted star player in his playing days. For me to pick his shoes because of my relationship with him means I have to leave the pitch and go back to the dressing room for such favour but that will mean I'm no longer active to do what I know best.
"I think the best answer to this recurrent question is that Okocha created a shoe for himself, no matter how big but I want to express myself and continue to develop my footballing career.
"It's a good thing to aim to better my uncle's achievements but he has set such a high standard that the best thing to do is to remain focused since age is still very much on my side," he explained.
On the match against Squirrel of Benin Republic on Saturday afternoon in Port Novo, Iwobi said all the players in camp are eager to better the results of the last two matches against Sierra Leone.
"We want to better the results of the last matches and will want to qualify as soon as possible. Although a draw out there is equally good for us to qualify but a win is most suitable without underrating our opponent," he remarked.
He also said all the players are eager to play before Lagos fans next week Tuesday and that it will be an interesting moment considering the niche the city has got to itself over the years.
"Playing in Lagos next week is symbolic to the team and we discussed it in camp and all members are looking forward to the match but the only unfortunate thing is that limited fans would be allowed into the stadium," he noted.
Report revealed that only the non-playing captain Ahmed Musa is the only player in camp that has played before a Lagos crowd. Interestingly, that game, though a non-competitive one was played at the same Teslim Balogun Stadium with Samson Siasia in-charge as head coach.