From superhero flicks to biopics, we rank every movie that the late Chadwick Boseman starred in, listed from least to most influential. BY ALEX LIN 17 HOURS AGO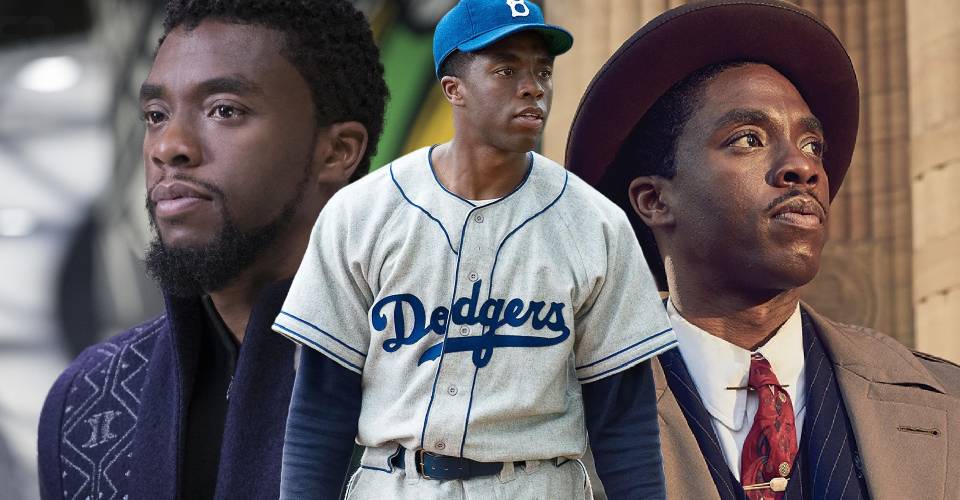 The late Chadwick Boseman brought something special to all the movies he performed in, and he will be remembered as one of the best, and most important, actors of his generation. Whereas most actors are lucky to give just one stand-out performance, Boseman delivered several throughout the course of his nearly twenty-year career.
From portraying the empowering king of wakanda to his final role as the arrogant, yet sympathetic, trumpeter in Ma Rainey's band, Boseman was a talented actor who had countless iconic moments in every film he starred in. More importantly, with movies like Black Panther he created role models and memories for generations of movie-goers to come. Continue Scrolling To Keep Reading
Boseman actually didn't start out his career as an actor. Boseman graduated from Howard University with a bachelor's degree in directing and had also written his first play by his junior year of high school. With ambitions of becoming a director-writer, Boseman initially took acting classes so that he could relate and communicate better with his actors. Before long, Boseman had developed a passion for performing and moved to Los Angeles to pursue his new dream.
Although Black Panther's performance at the Oscars showed that the superhero genre still has some hurdles to overcome, the film and Boseman's role in it undeniable shattered a significant glass ceiling. Moreover, Boseman's career was culturally influential from the start; his breakthrough performance as Jackie Robinson in 42 confirmed that he could be a truthful actor, while his portrayal of T'Challa in Black Panther showed that he had what it took to be a movie star. In celebration of the generous actor's life and career, here's a list of every single Chadwick Boseman movie, ranked from least to most influential.
15. Gods Of Egypt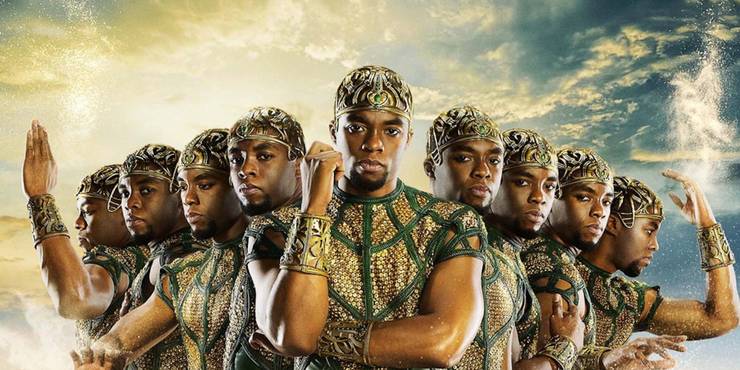 Although Boseman gave an interesting performance in Gods of Egypt as Thoth, the Egyptian God of Wisdom, Alex Proyas's film largely missed the mark. The movie reportedly lost Summit Entertainment (a child company of Lionsgate) $90 million after bombing at the box office. The production team also received a significant amount of backlash due to the fact that most of the Egyptian Gods were portrayed by a predominantly white cast, which included Nikolaj Coster-Waldau, Gerard Butler, and Geoffrey Rush. Still, Boseman put a serious amount of effort into the movie. Since his character manifested as multiple copies of himself, Boseman had to film all of his scenes hundreds of times from multiple different angles so that the post-production team would have all the necessary shots to build the special effect.
14. The Kill Hole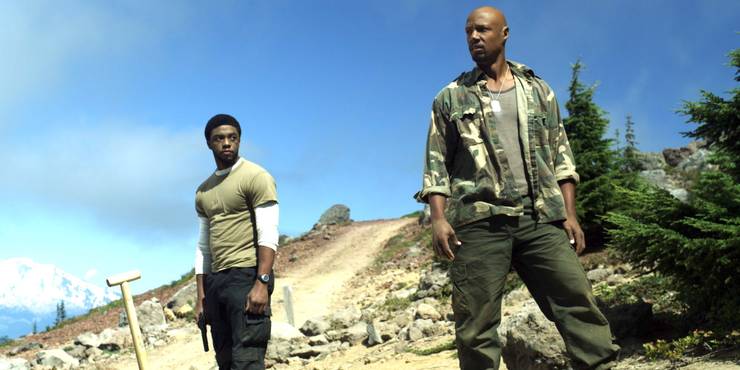 Boseman starred as Lt. Samuel Drake in Mischa S. Webley's 2012 film about an Iraq War veteran attempting to readjust to civilian life. Still struggling to cope with guilt carried over from the war, Drake attends group therapy sessions but doesn't make much headway. Eventually, war merchants approach him with a mission to track and take down another soldier — which Drake reluctantly accepts. While Boseman did a fine job in portraying Drake's emotional journey, the movie itself did not garner much critical acclaim or box office success.
13. Draft Day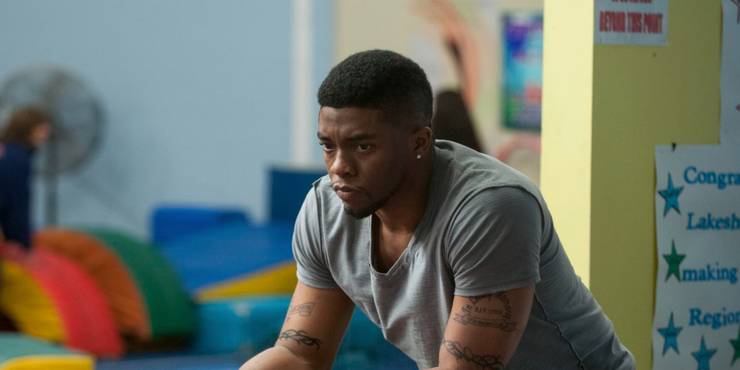 Boseman played opposite Kevin Costner in the 2014 sports drama Draft Day,. Portraying the Cleveland Browns's number one draft pick, Vontae Mack. In the film, general manager Sonny weaver Jr. (Costner) makes a trade with the Seattle Seahawks for their first overall draft by giving away the Cleveland Browns' first picks for the current season and following two years. Ultimately, Mack makes a case for Weaver to draft him with the first overall pick instead of prospective first-rated quarterback Bo Callahan. The film was poorly received by film critics and real-life sports professionals. In an interview with Sports Illustrated, former Green Bay Packers vice president Andrew Brandt characterized the movie as "lacking any true depiction of how an NFL team operates leading up to and during the draft."
12. Message From The King
Fabrice Du Welz's 2016 revenge thriller, Message From The King, follows protagonist Jacob King as he travels from Cape Town to Los Angeles in order to avenge his younger sister's death. Here, Boseman took on the lead role as King and added nuance and depth to what critics otherwise panned as an unspectacular film with a slow-moving script. Despite the movie's high-profile cast, which included Fast and Furious star Luke Evans, Message from the King flubbed at the box office, only grossing $315,132 after several production companies invested $10 million into it.
11. The Express: The Ernie Davis Story
Gary Felder's 2008 sports drama, The Express: The Ernie Davis Story follows the real-life story of Ernie Davis, who was the first African-American to win the Heisman Trophy. While the film attempts to balance the topics of civil rights and racism in American athletics, it largely falls flat against the scope of ideas it tries to cover. Plus, there wasn't much for the actor to do as Floyd Little in this film. Though crucial, the role was fairly small and only appeared at the very end of the movie. Still, Chadwick Boseman gives a heartfelt performance as Little in a small scene where the character earnestly recounts even the most minor details of Davis's college football career.
10. 21 Bridges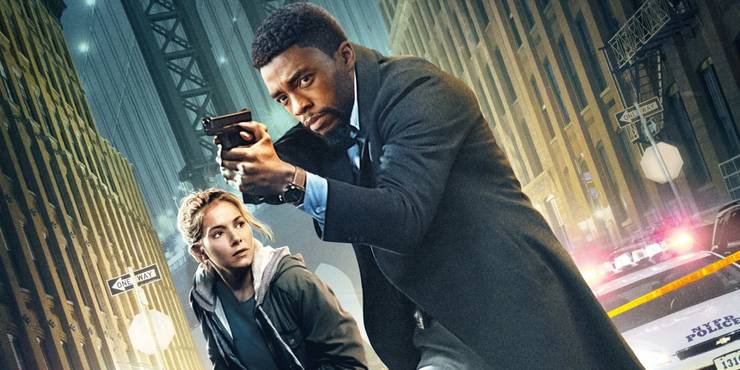 In 21 Bridges, Boseman stars as an NYPD detective who shuts down 21 bridges in Manhattan to track down two suspected cop murderers in Brian Kirk's 2019 action thriller. The film dives into themes of duty, honor, and corruption within the police force as Andre Davis (Boseman), but it's ultimately a routine police drama. The movie did prove that Boseman was both an on-screen and real-life superhero after Siena Miller revealed that he donated a significant chunk of his salary so that the actress could receive a fair rate.
9. Avengers: Endgame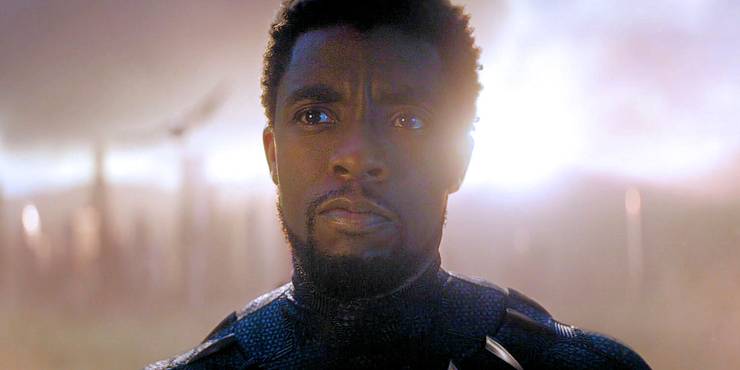 Avengers: Endgame was a fitting conclusion to a decades-long franchise. The movie was an overwhelming success, inspiring internet memes with its iconic moments (like Iron Man's snap at the conclusion of Endgames) and grossing nearly $2.8 billion worldwide.
Just when all seems lost, T'Challa, Shuri, and Okoye are the first to show up and join the remaining Avengers in their battle against Thanos. Boseman's cameo as T'Challa at the end the movie might be small, but it's definitely a powerful moment to behold. It's the first glimmer of hope in the final battle against Thanos, proving that good will always find a way to overcome evil.
8. Captain America: Civil War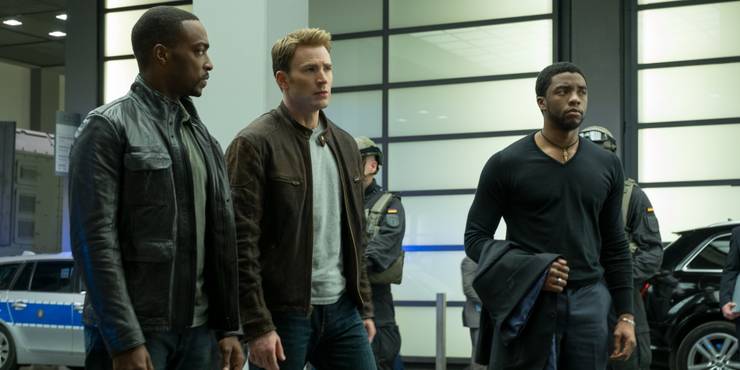 Captain America: Civil War was Boseman's first appearance as T'Challa, who joins the MCU as tensions rise between Iron Man and Captain America. After his father, T'Chaka, is murdered by a bomber (initially thought to be a brainwashed Bucky Barnes) at a conference in Vienna, T'Challa swears to avenge his death. The movie marked a turning point in Boseman's career and showed that the actor could hold his own against household names like Robert Downey Jr and Chris Evans.
7. Avengers: Infinity War
Boseman's work in Avenger: Infinity War is a powerful continuation of what audiences caught a glimpse of in Captain America: Civil War. It's devastating to watch T'Challa, along with a number of other superheroes, disintegrate after Thanos snaps with the Infinity Gauntlet. This loss solidified T'Challa's place as an integral member of the Avengers franchise after the success of Black Panther.
6. Da 5 Bloods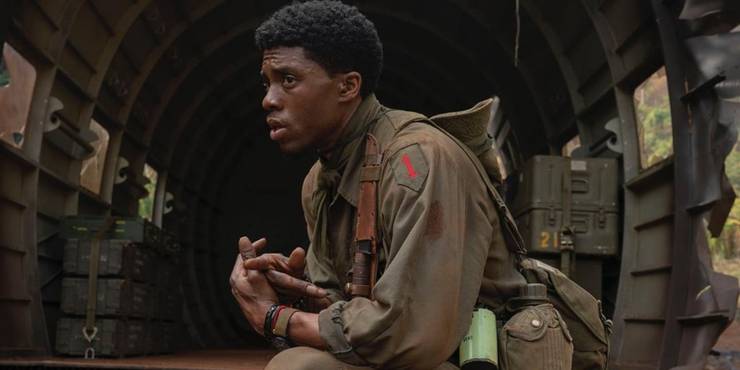 Da 5 Bloods might be one of the most meaningful Spike Lee movies to date. Da 5 Bloods is simultaneously comedic and critical; it dissects the African-American experience during the Vietnam War, which is significant but largely overlooked in the movie industry.
In the film, Boseman portrays "Stormin'" Norman, the leader of "Da 5 Bloods" who was accidentally killed in action by his fellow squad member, Paul (a moving Delroy Lindo). Though his appearance is brief, Boseman's compassion as Norman allowed a refreshing reprieve from an otherwise intense movie.
5. Get On Up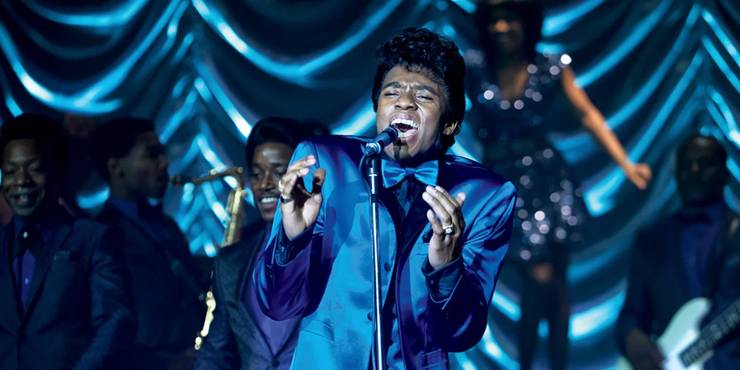 Boseman's starring role in Get on Up, the 2014 James Brown biopic, might be the most challenging part he ever took on. In order to play "The Hardest Working Man in Show Business," Boseman pushed his skillset to the limit. This level of dedication to the role is commonly seen in other music biopics, like Rocketman and Bohemian Rhapsody.
Though Get on Up also includes powerful performances from Oscar-winning actresses Viola Davis and Octavia Spencer, the movie is a great showcase for Boseman, who delivers musicianship, physical ability, and a deep emotional life all in one package.
4. Marshall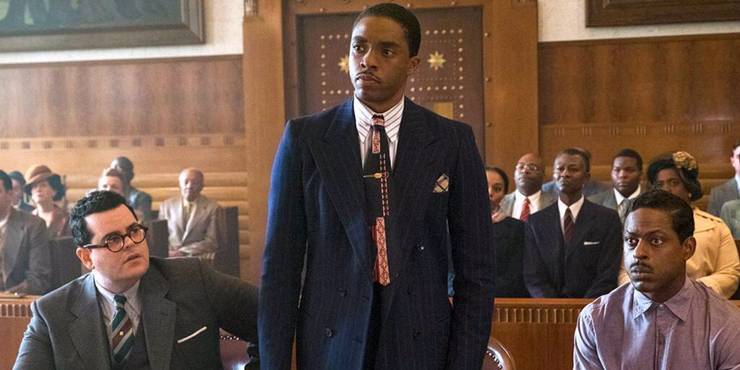 The seasoned actor took on another iconic roles in the 2015 biopic Marshall, where he portrayed Supreme Court Justice Thurgood Marshall as he argued one of the first cases of his career as a lawyer: Connecticut vs. Joseph Spell. In the film, Marshall travels to Bridgeport, Connecticut to defend Joseph Spell, an African-American man wrongly been accused of rape.
When the judge presiding over the case prohibits Marshall from speaking in court, he and his partner Friedman (Josh Gad, strikingly different from what viewers can see of him in the Frozen franchise's Olaf short) must devise away to still defend their client and deliver justice. Though the movie grossed $2 million under its budget, it showcases Boseman in an electrifying portrayal of Marshall, making it easily one of the more significant movies in his career.
3. 42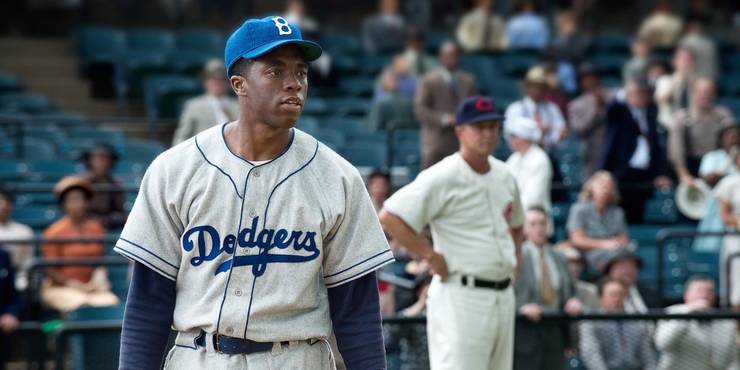 42 plucked Boseman out of obscurity and told the story of Jackie Robinson, the first African-American to play in Major League Baseball. The movie was a commercial success, grossing $97.5 million, and Boseman's portrayal had a positive affect on those who personally knew Robinson. Of the film, his widow, Rachel Robinson remarked to FOX Sports, "I love the movie… It's authentic and it's also very powerful."
2. Ma Rainey's Black Bottom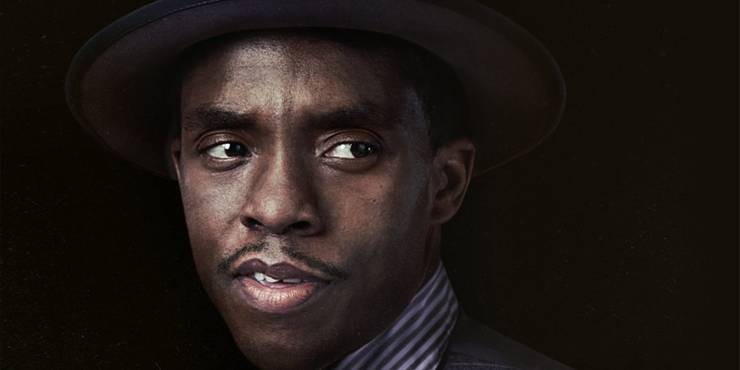 Here's a movie set to combat the whiteness of the Oscars: Boseman's final film, Ma Rainey's Black Bottom was posthumously released on Netflix on December 18th, 2020. Adapted by Ruben Santiago-Hudson from August Wilson's play of the same name, the movie follows "Mother of the Blues" Ma Rainey (a stunning Viola Davis) as she struggles to maintain her artistic integrity and independence while her white manager and producer fight for control over her music.
Boseman gives a powerful, moving, and undoubtedly Oscar-worthy performance as trumpet player Levee, who faces off with Ma Rainey in order to stake out his own claim in a white-dominated music world. It's a fitting end to a career cut far too short by tragedy. Juggling comedy, drama, fast-paced dialogue, and poetic language with ease, Boseman proves here that his artistry will carry on his legacy through the test of time.
1. Black Panther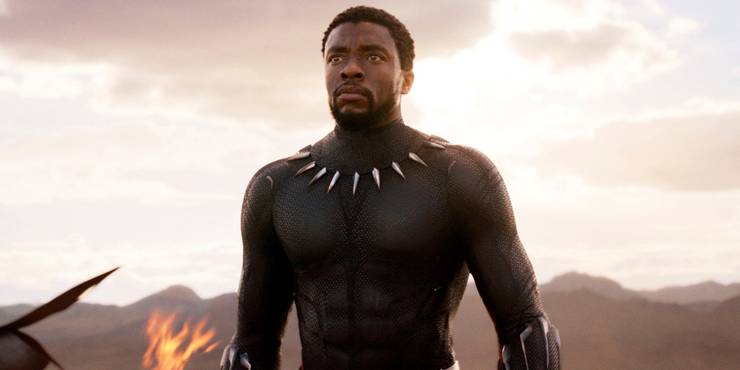 Black Panther not only propelled Chadwick Boseman to international stardom, it also changed what was possible for representation on the silver screen. Directed by Ryan Coogler, the film showed a nuanced investigation of colonialism and power. Black Panther was a massive hit upon its release, grossing a whopping $1.347 billion and breaking several box office records in the process.
The film was as culturally influential as it was commercially successful. Black Panther further proved that blockbuster movies for and by people of color were not only marketable, they were also in high demand. Without the financial triumph of Black Panther to point to, it's possible that movies like Shang -Chi and the Legend of the Ten Rings would not have received the same amount of support from a major production studio like Disney.
Though the movie sported a formidable supporting cast (with strong performances from from Michael B. Jordan and Letitia Wright), Boseman served as the backbone of the film with his grounded performance. Moreover, Boseman introduced an entire generation of young, black children to a superhero who looked like them; it's a powerful way of showing that the MCU can and should be inclusive.
Though Chadwick Boseman has passed on, he left behind an illustrious career filled with movies for viewers to enjoy for years to come. His talent and dedication solidify his legacy as a true gift to the world of movies and tv, and his memory will not be forgotten.