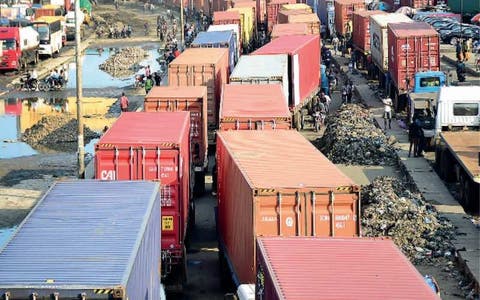 •Importers, clearing agents optimistic
•Apapa residents wants effort sustained
After years of untold hardship and deaths, sanity yesterday returned to Apapa, a once thriving port city brought to its knees by protracted traffic gridlock.
This followed the take off of the electronic call-up system (ETO) introduced by the Nigerian Ports Authority (NPA).
Apapa had in the past several years defied effort to solve its traffic problem. The efforts, including a presidential task team, were blighted by corruption.
However, normalcy returned to Apapa following the removal of trucks that littered the port access roads – Apapa Oshodi Express Way and Western Avenue leading to Ijora.
Journalist visited both ends of the port access roads yesterday, officials of the Lagos State government and NPA taskforce teams were seen with tow vehicles well positioned to remove erring trucks.
This is the first time that electronic call-up would be deployed to direct truck movement into ports in Lagos.
This automated process, known as Eto App, is expected to permanently restore sanity within the Apapa port corridor by removing the daily traffic congestion, if properly managed.
Meanwhile, port users, operators and Apapa residents were elated by the development. They called on NPA to ensure that the effort was sustained.
A resident, Mr. Chukwuma Vincent, said, "If you have been to Apapa in the past you will know what I am talking about.
Our businesses went down, property lost value and people were dying.
"We call on NPA to sustain this. I drove through to my house for the first time in many years and I cried.
I thought we had no government in Nigeria again. This is worth celebrating and I can only hope it lasts."
Importers, clearing agents and truck owners also expressed optimism as the electronic call-up system began yesterday. They called for a functional holding bay by shipping companies for return of empty containers.
NPA had late last year announced the launch of Eto, an Electronic Truck call-up system designed for the management of truck movement and access to and from the Lagos Ports Complex and the Tin Can Island Ports, Apapa, Lagos.
The authority said all trucks doing business at the ports would be required to park at the approved truck parks until they were called up into the port through the Eto app.
NPA explained that the Eto app will be responsible for the scheduling, entry and exit of all trucks from the ports with effect from February 27.
It also stated that about 7,000 trucks had been certified fit for the digitalised call up system, revealing that effective February 27, trucks must approach the ports from a holding bay or truck parks with a bar code to access the ports.
Stakeholders were optimistic that the electronic call-up system would end corruption in the port access management system.
Vice Chairman, National Association of Road Transport Owners (NARTO), Dry Cargo section, Alhaji Abdullahi Inuwa, said the call-up system would end artificial bottlenecks on the port access roads.
However, National Vice President, Association of Nigerian Licensed Customs Agents (ANLCA), Kayode Farinto, said unless the port access roads were fixed it might not yet be uhuru.
According to Inuwa, "I call on all stakeholders to cooperate and allow it work. If that happens, then we will get good result. Actually, if it takes off successfully, it will eradicate corruption, no human contact and other artificial bottleneck. NARTO wishes the authority a successful take-off.
"The motive is to take trucks off the roads, but NPA should involve other garages where trucks are parked in order to successfully decongest the roads."
Farinto urged the NPA management to be steadfast in enforcing the call-up system. He said the on-going construction of the Oshodi-Apapa expressway must also be completed in good time because there cannot be an effective call-up system without a good road.
"The road should be put in adequate place because there is nothing the call-up can achieve without a proper port access road, " he said.
Farinto, a former chairman, Tin-Can Island chapter of ANLCA, said shipping companies must be compelled to have functional holding bay for return of empty containers.
According to him, "Shipping companies should put up a holding bay for empty containers because without an efficient holding bay, is there a way the policy can be achieved?
"NPA should also decisively take over the system and prevent the security agencies from hijacking it.
They must totally remove human contact but how to achieve that I still don't know because Terminal Delivery Order (TDO) will still be generated manually.
"Also, there is nothing on ground to show that it will be electronic. Human contact must be completely eliminated because what is happening on the port access roads is an eyesore that is giving stakeholders sleepless nights."