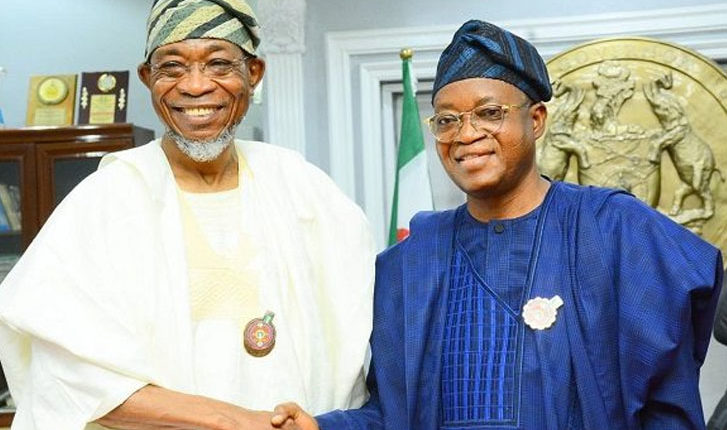 The alleged feud between the Minister of Interior, Ogbeni Rauf Aregbesola, and his successor, Governor Adegboyega Oyetola of Osun, has been fuelled by recent migrations across Nigeria's apex political party.
Reported to throw jabs at each other every time an opportunity presents itself, the Aregbesola-Oyetola duo might be preparing for a new exchange over former Osun Deputy Governor, Iyiola Omisore
Senator Iyiola Omisore did not make much of a splash when he recently defected to the All Progressives Congress (APC) from the Social Democratic Party (SDP)—at least, not at the national level. In Osun State, however, it was a big, big deal.
According to witnesses, Omisore's formal registration with the APC (at his polling ward in Moore, Ile-Ife) was met and accompanied by chants of "Oyetola for second term," which ruffled many minds.
Considering Omisore's attempt—not so long ago—to snatch the Osun State governorship from underneath Aregbesola, folks looked in the minister's general direction. And he did not disappoint.
Ogbeni Aregbesola expressed his worries over the many defections to APC in recent weeks, especially in his own Osun.
He said, "There must be a clear distinction between jolly good fellows and fair-weather friends who will still leave our party when they sense a better opportunity elsewhere…we must honour the memory of our father, Chief Bola Ige, and what he stands for…"
Folks will recall that Senator Omisore was one of those accused and tried for the murder of former Attorney General of the Federation, Chief Bola Ige. Although the court acquitted Omisore, folks allegedly still throw an accusatory glance or remark his way.
Whether Ogbeni Aregbesola's comment was a coincidence or a swipe at Omisore, the fact is that the latter might not find a friend in the former. After all, it is evident that Omisore is in Oyetola's camp.
Thus, as long as Aregbesola and Oyetola continue to compete against each other for command and control of Osun and APC, as the rumours suggest, Omisore has only Oyetola's shoulders to lean on.
Moreover, the 2022 Osun gubernatorial election is just around the corner. Omisore might just be what both Aregbesola and Oyetola need to trump each other—one to accuse and discredit, another to gather more loyalists and shut his predecessor out of the State. Time will tell.